Season Five Is Here and It's Going to Be EPPiC!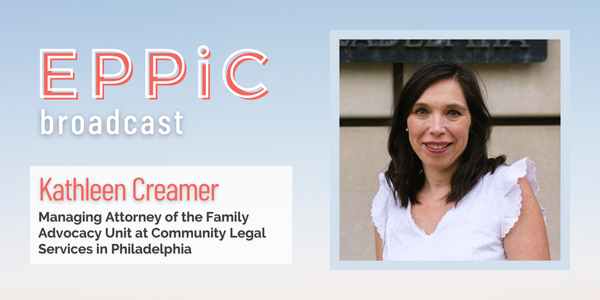 The Parental Rights Foundation's EPPiC Broadcast podcast launched its fifth season August 16 with guest Kathleen Creamer, managing attorney for the Family Advocacy Unit of Community Legal Services in Philadelphia. Kathleen is on the front lines every day, defending families from overreach by Pennsylvania's child welfare system. This marks her second appearance on the EPPiC Broadcast; I had the privilege of talking with her in our first season back in 2020.
The EPPiC Broadcast (which stands for "Empowering Parents, Protecting Children"—EPPiC) was launched by the Parental Rights Foundation in January, 2020, and has featured guests from across the political spectrum who all share a concern for parental rights, whether in education, medical services, or in battling the child welfare system.
Our first season was shaped by the emergence of covid, and I'm proud to say we responded to those ever-changing events with helpful and insightful episodes applying parental rights to the shifting world around us to protect your children.
Since then, we have built one of the greatest (if not the greatest) libraries of parental rights thought and scholarship among podcasts today, with such scholars as Martin Guggenheim, Diane Redleaf, Vivek Sankaran, Josh Gupta-Kagan, Robbie George, Michael Farris, Jerry Milner, Jessica Pryce, John Rosemond, and Andrew Brown (plus many more)!
Season five, which is scheduled to run through November, will continue to feature a new guest each week unpacking legal, educational, or other practical tidbits to help you in your parental role.
Early season-five episodes include Creamer, Foundation chairman and founder Jim Mason, and Melissa Moschella, a professor of philosophy at The Catholic University of America and author of the book, To Whom Do Children Belong?
Breaking News!
We have also just learned that Community Legal Services of Philadelphia (CLS) has filed suit against the Commonwealth of Pennsylvania over the practice of adding parents' names to the state's child abuse registry without first providing due process, such as a hearing and a chance to defend oneself. The EPPiC Broadcast will host a conversation with one of Kathleen's CLS colleagues to discuss this exciting development and what it might mean for parents across the country. (Further details to be announced!)
Listen Now
If you haven't yet checked out the EPPiC Broadcast, I encourage you to do so today. You can find us on Apple Podcasts, Spotify, or Google Podcasts. And you can catch up on past episodes by clicking on the links in this article or from our podcast's webpage online.
We are proud to bring you these vital voices in the cause for parental rights and family defense, and we invite you to join us by listening today!
Sincerely,
Michael Ramey
Executive Director
[MR13]S. 2, Ep. 19