The Victories Start with You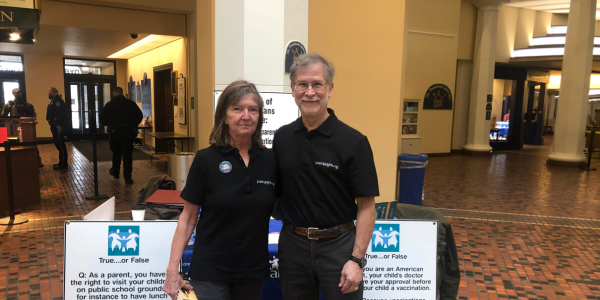 We've been celebrating victories all summer, starting with the passage of a fundamental parental rights bill in North Dakota on May 6 and going through the passage of North Carolina's Parents' Bill of Rights by veto override on August 16, with wins in Iowa and Alabama along the way.
But these wins and others like them don't usually start with the legislature. They don't even usually start with the lawmaker who introduces the bill.
Usually, they start with volunteers just like you, who connect a state lawmaker with one or more of the models we've posted at ParentalRightsFoundation.org.
Sometimes, that volunteer is a seasoned veteran who knows the inner workings of the state house through years of experience talking with lawmakers and lobbying for bills.
But those instances are rare.
Much more likely, it's someone who has never done this before, but who is willing to email or call their lawmaker to suggest a bill be taken up in their state.
And the time of year for them to do that is right here in the fall, so that the lawmaker has time to look over the model and prepare a state-specific bill for the session coming in January.
Maybe your state legal code needs a clear statement that parental rights are fundamental and that courts must protect those rights with strict judicial scrutiny. Only nineteen states have such a law today, leaving 31 states with work to do.
Or perhaps your state is one of those 19 with this general, foundation level protection of parental rights, but you could really use a parents' bill of rights to spell out what parental rights mean in a practical sense in various contexts: public schools, healthcare decisions, and child welfare contexts, to name a few.
Or maybe your state needs to focus on key reforms in just one or two of these areas.
And I realize there's a good chance you're not sure just where your state stands on parental rights at all.
Even so, you can still launch the next parental rights victory from right there at your computer.
How?
First, check our map to see if your state already has a fundamental parental rights law. If you don't, that's an excellent place to start.
Second, reach out to your state-level lawmaker (member of your state Assembly, House, or state Senate) and ask them if they would be interested in championing a parental rights bill in the coming legislative session. Let them know this is a matter of concern to you, and you can connect them to model legislation fitting for your state.
Then, if they respond with interest, you can tell them the models we have available and ask them which they think would be appropriate for your state. Start with the fundamental parental rights law if you don't already have one, but beyond that you can generally trust your lawmaker to know the current status of parental rights and determine which model is a good fit.
If they are not interested in championing parental rights legislation, though, ask them if they could recommend another lawmaker in the state who might be interested. Often, they will make this sort of recommendation, even if it is for a topic they don't support. That's because state lawmakers are often supportive of the system and value public input, regardless of which side it's on. (Of course, they prefer it be on their own side, but they often value the exchange of ideas on its own merit.)
And if you can't commit the time to reach out to your lawmakers and make this connection, you can still power our next success by investing with a financial gift at parentalrightsfoundation.org/donate. Every dollar helps make it possible for us to work with volunteers and state lawmakers to bring needed child welfare reforms or other parental rights legislation to the states—including yours!
Finally, email Michael@parentalrights.org and let me know about the connection you made and how it was received. We're here to help your efforts succeed!
However you are able to stand with us today, I thank you for your continued interest and support to protect children by empowering parents where you live. Todays' investments will lead to the next wave of victories in 2024!