EPPiC Broadcast Launches Seventh Season, Highlights Texas Parental Rights Law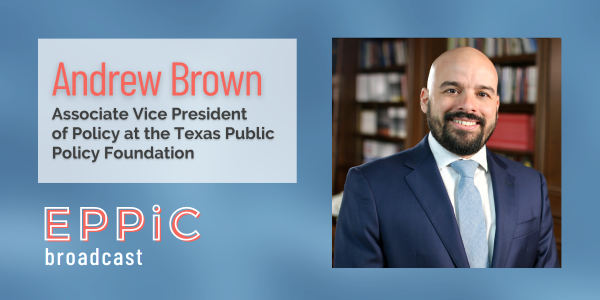 Tuesday, August 8, the Parental Rights Foundation launched the seventh season of our EPPiC Broadcast with an episode featuring Andrew Brown of the Texas Public Policy Foundation.
And I couldn't be more excited.
Texas, as you may have heard, passed some spectacular parental rights legislation this year. And I'm not just talking about one good bill, but multiple pieces of legislation to strengthen and preserve families. In our opening podcast episode, Andrew Brown, associate vice president of policy at the Texas Public Policy Foundation, leads me through a recap of these bills, how they passed, and what we can expect when they become law in a couple of months.
But that's just the beginning!
EPPiC stands for "Empowering Parents, Protecting Children," which is the very heartbeat of the Parental Rights Foundation. Through this podcast, we are seeking to build the world's foremost audio library on parental rights and family preservation, including scholars from many professions and from all over the political spectrum.
In episode two, to debut on Tuesday, August 15, I interview Maxine Eichner, the Graham Kenan Distinguished Professor of Law at the University of North Carolina School of Law. Max is more than a law professor—she is also a mother whose child has a hard-to-diagnose rare disease. This has made Max an in-the-trenches expert on the intersection of family law and the medical system. She shares a bit of that expertise with our listeners in that episode.
On August 22, we'll air a new episode I got to record with Josh Gupta-Kagan of Columbia Law School just days after he and I (and many of our colleagues) visited Capitol Hill to educate Congress on the subject of "Hidden Foster Care." Josh became the de facto expert in this area of family law with the publication of "America's Hidden Foster Care System" in the Stanford Law Review in 2020, and we were both pretty pumped up on the subject and on our successful DC Day when this episode was recorded.
In episode four, coming August 29, we feature Jerry Milner, formerly head of the Children's Bureau in the federal Department of Health and Human Services. For four years, Jerry set the pace for how the federal government applied the law and distributed the funds earmarked by Congress for "child welfare." Now he gets to speak to the subject as a "free man" and not a public servant, and he's not holding back.
And the season will continue through November with new expert guests like these coming to you each week.
Let me encourage you to take time to check out the EPPiC Broadcast and invite your friends and family to listen, too. New episodes are released on Tuesdays at 2 p.m. Eastern and are available whenever you have the time to listen, free of charge, at Apple Podcasts, Spotify, Google Podcasts, or BuzzSprout. And you can always find new episodes on our website as well, at ParentalRightsFoundation.org/podcast.
Thank you for tuning in, and for your ongoing support of parental rights.