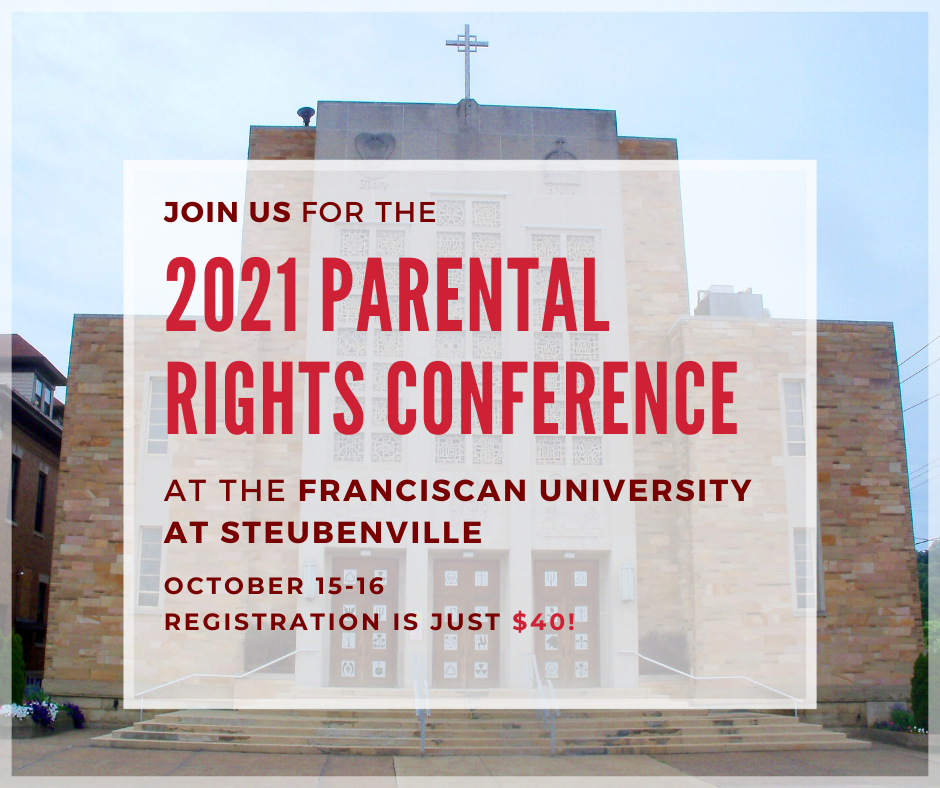 Join us for the Conference on Parental Rights at the Franciscan University of Steubenville October 15-16, 2021.
The conference gathers world-renowned speakers to discuss modern challenges facing the traditional role of parents and the erosion of their rights "in recent decades as schools, the courts, and the state have appropriated larger and more far-reaching roles in the lives and care of our children."
Topics include:
Parental Rights and Decisions about Minor Children's Health Care
The Assault on Parental Rights by Sex Education in the Schools
The Welfare State, the Family, and Parental Rights
False Child Abuse Allegations, the Child Protective System, and the Threat to Parental Rights
The Legal Defense of Parental Rights in the U.S. and Internationally
Cosponsors of the event include the Parental Rights Foundation, the Veritas Center for Ethics in Public Life, the Franciscan University of Steubenville's Department of Political Science, Home School Legal Defense Association (HSLDA), Alliance Defending Freedom (ADF), and the Society of Catholic Social Scientists.
Among the speakers are Parental Rights Foundation president Jim Mason, Foundation board members Dr. Stephen Krason and Allison Folmar, Foundation founding president Michael Farris, and more.
The cost of the conference is only $40.
This is an academic conference and has been certified by the Ohio Bar for up to 13 hours of Continuing Legal Education credit—but due to its subject matter and the speakers involved, it will definitely be of interest to the general parental rights-loving public, as well.
Visit the Franciscan University of Steubenville website to reserve your spot today!
Sincerely,
Michael Ramey
Executive Director
P.S. For those travelling, the location is about 30 minutes west of the Pittsburgh International Airport.)