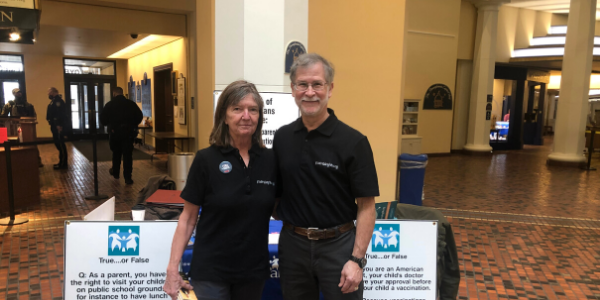 Photo: Pennsylvania Coordinator and Parental Rights Foundation board members Vickie and Paul Suarez at an event inside the Pennsylvania Capitol in Harrisburg in February 2022.
Fifteen years.
Because of you and your generosity, our parent organization, ParentalRights.org, has existed for 15 years with a single mission: to protect children by empowering parents. And that's the same purpose that we have championed with our charitable arm, the Parental Rights Foundation, since 2014.
When Mike Farris, Mike Smith, Jim Mason, and other concerned attorneys gathered a board and founded ParentalRights.org in February of 2007, the world was a very different place. Tech giants like Facebook and Amazon were just becoming popular with the general public. Twitter wasn't even a year old, and few people used it. A Texan named George W. Bush was president.
But some things are the same: The importance of parents. The love that a mom and a dad have for their children. The critical importance of ensuring that parents—not bureaucrats—retain their God-given freedom to raise, educate, and care for their children.
ParentalRights.org has been the public face of our work—yours and mine—to protect children by empowering parents over the past 15 years. But both the public policy efforts and the behind-the-scenes work of our charitable arm, the Parental Rights Foundation, are what keep our organization up and running.
And all our success, under either organization, has been possible only because of your partnership and generosity.
Our fiscal year ends on March 31, and we've had a great year. But in order to take our efforts of protecting children by empowering parents to the next level this coming year, we need your help now to finish this year strong!
It's a simple part of "doing business": we can only budget in fiscal year 2023 what we have reason to believe we'll be able to raise, based on fiscal year 2022. So, the better we do this month, the more work we'll be able to budget and plan for in the coming year. Our board needs to know the organization has your support to do more in the year ahead.
We've all seen the videos of ordinary moms and dads standing up to the bureaucrats in their local school boards. Their energy, passion, and determination to speak out for their children inspires me. We need to make sure we have their backs as we work to advance legislation and research, and as we serve as a nationwide voice for parents in the public square. And this is exactly what your generous donation today can empower for the year ahead.
We have a huge mandate: speaking out for the rights of parents with children in public schools, private schools, homeschools, charter schools, parents whose kids are not yet school age, parents whose kids have graduated, and people who do not have children of their own, but who recognize the critical importance of this fundamental freedom.
Here's what your tax-deductible gifts to the Parental Rights Foundation have already accomplished in fiscal year 2022:
Securing a preliminary injunction in our lawsuit to halt DC's Minor Consent to Vaccination Amendment Act, which ordered doctors, schools, and insurance providers to keep secrets from parents about their minor child's health records and medical care.
Supporting our work with the American Legislative Exchange Council (ALEC) to officially endorse our model bill enshrining parental rights as a fundamental right in state legislation. Fourteen states—West Virginia, Kansas, Michigan, Texas, Utah, Colorado, Arizona, Nevada, Virginia, Oklahoma, Idaho, Wyoming, Florida, and Montana—already have these laws. Legislators across the nation are introducing bills to put this model policy into effect in their state laws. Our president, Will Estrada, was even asked to testify before the legislatures of South Dakota and Colorado on the importance of protecting parental rights as a fundamental right in state code. 
Supporting our work with ALEC to protect innocent families and parents in abuse and neglect investigations by promoting state laws that replace anonymous reporting of abuse and neglect with confidential reporting, and encouraging state laws that protect due process rights before a parent is put on a central registry of abuse and neglect. Will Estrada met with a group of New Hampshire policymakers in Concord, New Hampshire on February 15 about the importance of eliminating anonymous reporting of child abuse and neglect, in order to protect innocent families from having the system weaponized against them. You can see some of our research made possible by your generosity at www.ParentalRightsFoundation.org/disproporionality. This is the information Will relied upon when he talked with these leaders in New Hampshire. 
Supporting our work to protect innocent families and parents by promoting state laws that specify that reasonable parenting decisions are not neglect. This model legislation was introduced by a bi-partisan coalition of legislators in Colorado, Nebraska, and South Carolina just this year, and Colorado's bill that is based on the model legislation we support has already unanimously passed the Colorado House of Representatives.
Supporting state legislation that provides curriculum transparency so that parents know what their children are being taught in public schools.
Equipping and motivating parents as they exercise their First Amendment rights to urge their legislators to protect parental rights. Will Estrada spoke recently at a rally at the Capitol in Harrisburg, PA about the importance of parents and children being grassroots ambassadors to their elected officials.

Providing research to support parental rights and legislation that protects parental rights.
Serving as a voice for parents in the public square. In the past two months, we have written two op-eds that were published in national outlets supporting parental rights, one in the Daily Signal and the other for Town Hall.
When ParentalRights.org first opened its doors in 2007, we had one mission: to protect the fundamental right of parents by passing a federal Parental Rights Amendment to the U.S. Constitution. That work hasn't stopped.
However, DC is broken. Call it what you will—"our nation's capital," "the most powerful city on earth," "a future 51st state," "the Swamp"—there is no question our DC political process (both in Congress and in the White House) is dysfunctional. Instead of protecting our fundamental freedoms, it seems that many of our elected officials are more intent on acquiring power, prestige, and money for themselves. While we continue to work to reintroduce a federal Parental Rights Amendment, we know this is a battle that may take a generation, and parental rights are just too important to wait on DC.
That's why a lot of our work—for now—has shifted to the states.
As we celebrate 15 years of protecting children by empowering parents, and as we look ahead to the next 15 years, one thing remains the same: we would not exist if it were not for your generosity, your partnership with us.
As we set our budget and our priorities for our next year, can I count on you to stand with us, and alongside parents across these United States, with your most generous gift today of $5, $35, or even $125?
Together we can set the stage to make 2022 "the Year of the Parent" and fiscal year 2023 the greatest yet for the vital mission of the Parental Rights Foundation.
Sincerely,
Michael Ramey
Executive Director