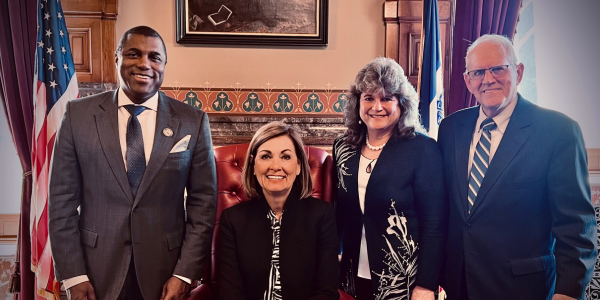 We want to share with you a tremendous victory: Iowa is poised to become the 16th state in the nation to protect parental rights as fundamental in state code. As of today, the bill has passed the legislature and awaits only the governor's signature, which is expected at any time!
It was the most unlikely of victories. For starters, our bill, Iowa House File 486, "An Act relating to fundamental parental rights," died in early March. So how could we possibly be celebrating a victory in Iowa eight weeks later?
We have seen the impossible happen more than once to bring us to this moment.
First, Iowa Governor Kim Reynolds had a priority bill, Senate File 496, that she wanted the legislature to pass. It contained language enumerating major parental rights and specified that parental rights were not limited to those listed. As we studied her bill, we realized she could not achieve the rights and legal safeguards she wanted without a proper recognition of parental rights as fundamental.
And we already had the solution at hand! Our fundamental parental rights bill that had been twice introduced by Representative Eddie Andrews, but stalled in negotiations with hostile lobbying groups, could be resurrected to preserve fundamental parental rights through an amendment to the governor's bill!
So, our volunteer state coordinator, Barb Heki, went back to work. Barb consulted with Rep. Andrews, as well as our friends at The Family Leader, and then met with the influential senator in charge of the bill, Senator Ken Rozenboom, chair of the Senate Education Committee and the bill's floor manager, who agreed to include our fundamental parental rights language in SF 496.
In a post-victory Facebook post, Barb described Sen. Rozenboom like this: "I am not in his district, yet he listened to me. In fact, he listened to everyone—to those who oppose his bills, or portions of them, and to those who support them. He is extremely conscientious and responsive, researches things thoroughly, listens to all sides, and actually considers all sides. He was very careful to make sure that children would be protected from abuse without sacrificing the overall standard of protecting fundamental parental rights. He has the respect of fellow senators, as I heard over and over from those I talked with."
We also started working the phones, engaging and joining national organizations—including HSLDA and Alliance Defending Freedom—to educate lawmakers on the need for this "fundamental" language.
The path of this bill to victory, which Barb called "a chain of miracles by God," was anything but simple.
It passed the Iowa Senate and went to the Iowa House. It passed the House as well, but with some significant amendments. That meant it had to go back to the Senate to approve the House amendments. Or it could go to a joint committee to iron out the differences between the House and Senate versions, then go back to both houses for passage.
That's when another amazing event occurred.
As SF 496 approached its final negotiations and votes, we discovered that along the way dangerous language had been added that would exempt CPS investigators, law enforcement, and any state employee involved even tangentially with child welfare from the strong parental rights protections the bill was intended to preserve. (As you may have guessed, hostile lobbying groups that want to limit parental rights convinced legislators that this language was necessary.) We and our allies immediately worked to remove this language, including providing expert legal guidance and analysis. Yet on Friday night before a possible Monday vote, Barb was told that it would not be changed.
That weekend, Rep. Andrews and Sen. Rozenboom had a long discussion involving the history of parental rights, past and current abuses of parental rights, the legal ramifications of the wording and all the iterations that had been attempted for several years with Rep. Andrews' bills, and the bottom-line wording that was needed to protect children while preserving the fundamental rights of parents.
That crucial conversation tipped the scales and Sen. Rozenboom agreed that the "loophole" language, which would have crippled the parental rights protections in the bill, would be eliminated. It was a complete turnaround, and a thorough victory. The bill ultimately passed the Iowa legislature and awaits Governor Reynolds' signature into law!
We are also grateful to several Iowa-based groups whose efforts also contributed to the success of this bill, including Iowa Liberty Network, Moms for Liberty Iowa, Homeschool Iowa, Iowans for Freedom, and Protect My Innocence.
Our Volunteer State Leaders Make the Difference
Barb now joins the ranks of other hero volunteers in the history of the Parental Rights Foundation and our parent organization, ParentalRights.org. Like Tracey Montgomery in Oklahoma in 2014, Jan Loftus in Wyoming in 2017, and Patti Sullivan in Florida in 2021, Barb Heki in 2023 was the primary reason that her state passed legislation protecting parental rights as fundamental.
Tracey, Jan, Patti, and Barb are four of our fantastic Parental Rights state coordinators. They put in years of toil meeting with legislators, attending hearings, seeing their bills get defeated, but never quitting. And today, every single family in their states is protected because of their efforts. (Iowa families will be soon!)
There are many, many more moms and dads like Tracey, Jan, Patti, and Barb, who continue working in their states. Many of them recently joined us for our very first "fly-in" on Capitol Hill. We salute them and the countless parents who make visits, email and call your legislators; you make these victories possible!
Your Turn?
This brings me to an important invitation: We are renewing our efforts to have a volunteer coordinator in every congressional district in the nation. (There are 435 congressional districts, so we need YOU!) You may not have the connections Barb and the others do (although, neither did some of them just a few years ago). But if you have a passion for families and a heart for parental rights, you could take up the mantle in your district!
We prepare to celebrate Iowa becoming the 16th state in the nation to protect parental rights as fundamental in state law. But there are still 34 states to go. We need YOU to protect parental rights at the state level. And we know that, in order to get the Parental Rights Amendment to the U.S. Constitution passed and ratified, we will need many more volunteer parents and grandparents all across the nation.
To apply, please email your name, state, congressional district (or your address if you don't know your district), and a brief bio explaining why you're interested, to Michael@parentalrights.org.
Conclusion
Just a few weeks ago, we at the Parental Rights Foundation were starting to get discouraged by all the parental rights bills that failed to make it across the finish line this legislative season. But this victory in the Iowa legislature completely turned that around.
Not only will Iowa soon become the 16th state to preserve parental rights as fundamental in legislative code, but our bills to reform CPS and protect innocent families have passed in Virginia, Montana, and elsewhere. Bills in other states are also showing new signs of life just in the last two weeks. We will report more on these in the weeks ahead.
Thank you for standing with us in Iowa and across the nation as, together, we protect children by empowering parents through state legislation like Iowa SF 496.