EPPiC Conversation with Children's Bureau Chief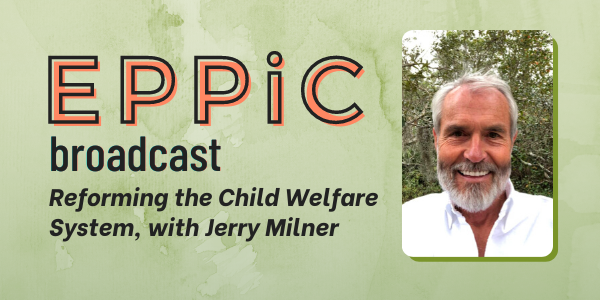 We're excited to announce this week's special episode of the EPPiC Broadcast, where Parental Rights Foundation president Jim Mason talks with Jerry Milner about his views on child welfare and family preservation. This interview marks the first time the head or former head of any federal agency has appeared on our podcast, and we are honored by Jerry's visit.
Appointed the acting commissioner of the Administration for Children and Families under the Trump administration, Milner sought to move the nation's child welfare system toward more prevention and family preservation, a shift that was welcomed by many on both sides of the aisle.
On the podcast, Milner discusses his long career in child welfare, first at the local, then at the state, then at the federal level. He talks about strategies that worked (and some that don't) and his efforts to transform how parents are viewed and how families are treated in the system.
One strategy Milner especially endorses is funding flexibility. In Alabama, he says, "we provided flexibility in the funding for how the county child welfare systems out there used their child welfare funds to support families and to help prevent the need for foster care. We've been trying to do that at the federal level."
He also provides a look at his time at the children's bureau under President Trump and at the hurdles that exist at the federal level that hinder our journey toward progress and reform.
From his modest beginnings to his first job as a child welfare investigator, to his leadership role in Alabama, and finally at the Children's Bureau, Jerry's career has covered the whole span of child social work, giving him a wide-lens, big-picture view of the system. Throughout this episode, he makes that view accessible to the listener as well.
To hear what Jerry Milner has to say, check out the full podcast episode here, and be sure to share it with your family and friends.
You can support the ongoing work of the Foundation, including this podcast, through a tax-deductible gift to the Foundation here.
Thank you as always for standing with us to protect families and for spreading the word to raise awareness. Together, we can secure parental rights for the protection of our children!

Sincerely,
Michael Ramey
Executive Director