Coordinated Efforts Came Together on "Banner Day"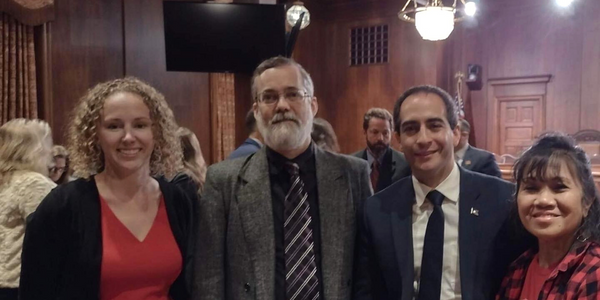 October 18 was a banner day for the Parental Rights Foundation, as our team coordinated major legislative undertakings at the state and national level at the same time.
First, we traveled north to Harrisburg, Pennsylvania, where Will Estrada testified before the Pennsylvania Senate's State Government Committee. The subject was Senate Bill 996, the Parental Rights Protection Act, which will enshrine into Pennsylvania law the fundamental right of parents to direct the upbringing, education, and care of their minor children.
While we have several model bills on our website to give lawmakers a head start on things like confidential reporting or Child Protective Services reforms, this fundamental parental rights model has been the hallmark of our work in state legislatures for the last few years. With the addition of Georgia this past spring, 15 states now include this legal protection in state law. With the passage of S.B. 996 (which was voted favorably out of committee on October 24, just days after Will's testimony), Pennsylvania can make it 16.
Legislative protection of parental rights as a fundamental right is moving in PA!
Second, while all of that was going on in Pennsylvania, the Parental Rights Amendment to the US Constitution was being reintroduced in Congress. Rep. Debbie Lesko (R-AZ) introduced House Joint Resolution 99 (H.J. Res. 99) on the floor of the US House of Representatives that same morning.
All of this took coordination: coordination with staff for the Pennsylvania State Senate in advance of our testimony in favor of S.B. 996, and coordination with Rep. Lesko's staff to produce press releases and social media announcements promoting the introduction of the Parental Rights Amendment.
All of that kept us busy not only on October 18 (the day of those events), but also on the days leading up to and following it. And that includes days we were coordinating a third project: weighing in on Virginia Governor Glenn Youngkin's new, pro-parent education policy.
Youngkin famously won election last year over former governor Terry McAuliffe after the latter foolishly declared that "parents should have no say in what is taught in the public schools." Now, true to his pro-parents position, Youngkin has proposed education guidelines prohibiting schools from keeping parents in the dark about their own children's health and welfare. This is a dramatic reversal of his predecessor's guidance, which kept this crucial information away from loving parents.
For our part, we were happy to weigh in on the new guidelines, encouraging their adoption for the good of Virginia families.
And underneath all these events, we have been awaiting the settlement of our court case with the District of Columbia that ended their overreaching law to give vaccines to minors without parental knowledge or consent. The outcome has been set—DC gave up on the case and our plaintiffs have won—but we are just awaiting the final administration of that settlement.
All told, it has been a crazy-busy couple of weeks. But it has been fun, exciting, and worthwhile.
Yet efforts like these are not unique.
Oh, it's something special when such big moments all happen on the same day, as is the case with the Pennsylvania hearing and the Parental Rights Amendment introduction.
But these are efforts we are working on day in, day out, in Congress and in the states, wherever we have opportunity. We understand that the battle for your family and for your children is not only in Congress, or only in your state government, or only at your local school board. The battle for your family is raging in all of these areas, and more.
That's why the Parental Rights Foundation is at work in all of these places—the state house, the courthouse, and even Congress—to promote legal protections for the vital role only you can play in the life of your child.
And in all these things, we are completely donor supported. So, if you are able, please consider making a tax-deductible gift today to keep these efforts moving forward.
Thank you as always for standing with us to protect children by empowering parents wherever the need arises!
Sincerely,