Parental Rights Foundation Joins Amicus Brief to Defend the First Amendment From Federal Overreach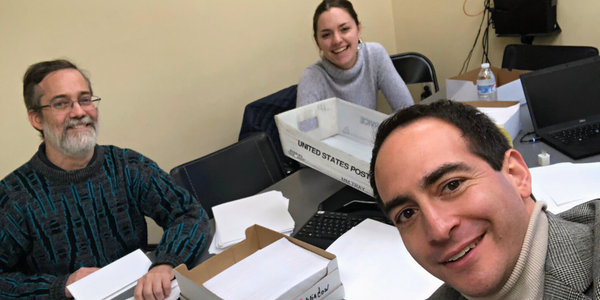 A few members of the Parental Rights team preparing a mailing in the office. From left to right, Michael Ramey, Natalie Clarke, Will Estrada.
On Tuesday, the Parental Rights Foundation joined over fifty organizations, individuals, and elected officials in an amicus curiae ("friend of the court") brief to the Federal District Court for the Middle District of Alabama, in the case of Boe v. Marshall (formerly Eknes-Tucker v. Ivey), No. 2:22-cv-184-LCB-CWB. 
The amicus brief, drafted by the prestigious law firm of Boyden Gray & Associates in Washington, D.C., and filed by local counsel Bert Jordan at Wallace, Jordan, Ratliff & Brandt, L.L.C. in Birmingham, AL, is in response to the U.S. Department of Justice's attempt to subpoena emails and documents from Eagle Forum of Alabama.
You can read the amicus brief here. The amicus brief states,
Amici comprise a wide range of organizations and individuals, from non-profit policy groups, to federal and state legislators, to individual citizens. Their interests and goals vary. But all agree that the United States' subpoena in this case is a transparent use of the civil litigation process to chill the speech and political organizing of those who hold views contrary to those of the United States and the Department of Justice. The subpoena harms not just members of the public across all ideological and political spectra, who will be inhibited from open discourse and petitioning, but also legislators themselves, who benefit from hearing from their constituents without those citizens fearing subsequent federal investigations seeking reams of protected materials.
The Parental Rights Foundation was not involved in the passage of the state law at issue in Boe v. Marshall. But we joined with this amicus brief because the U.S. Department of Justice is treading on the sacred Constitutional right of organizations like Parental Rights Foundation to be involved in our nation's legislative efforts. Just this spring, our parent organization, ParentalRights.org, registered as a lobbying organization in nearly a dozen states so that we could represent you and advance state-level legislation to protect our precious children by empowering parents.
If one of the bills we championed became law and was then challenged in court, such is life. This regularly happens, and state attorneys general step up to defend their state's laws. But what does NOT regularly happen is for the federal government to suddenly demand to see internal emails and documents from a nonprofit organization simply because it supported the bill during the legislative process before the bill became law. This is what the U.S. Department of Justice is trying to do in this case. If the U.S. Department of Justice was left unchecked to subpoena these communications, it would have a chilling effect on the work that we do to advance laws all around the country that protect the rights of parents like you.
It's because of you that we are able to work on federal legislation like the Parental Rights Amendment. It's because of you and your generous financial support that we are able to advance model legislation like our model fundamental parental rights bill that is now the law in 15 states and our model bill to ensure due process in CPS investigations. We are proud to join this amicus brief to ensure that the federal government does not use the civil litigation process to chill the First Amendment free speech and free association rights of organizations like ours.
Sincerely,
Will Estrada
President, Parental Rights Foundation
P.S.This week on our podcast, we interviewed Jason Bedrick about a recent article from the New York Times that attacked the Yeshivas (religious schools) of New York's Hasidic Jews. You won't want to miss this interview on a hot-button topic. Check it out here.