Mandatory Home Visits Coming to Oregon?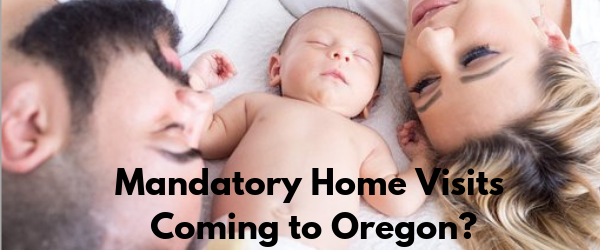 Dear Champion of Parental Rights,
Are the headlines true? Are universal mandatory home visits coming to Oregon in the near future?
At first read, it appears Oregon Governor Kate Brown's latest budget proposal would introduce over the next six years a program of mandatory in-home visits for every family with a newborn child. Not just adoptive homes, or foster homes, or homes under investigation. Every home.
Every New Parent
"This isn't something for people in trouble. This is stuff all kids need. Stuff my kids needed," says Patrick Allen, director of the Oregon Health Authority, in an interview with the Beaverton (Oregon) Valley Times published January 3.
Should the plan be adopted—and should it be universally mandatory—it would call for every new parent in the state to "receive a series of two or three visits by someone like a nurse or other health care practitioner," according to the Times article.
Some 40,000 babies are born in Oregon annually, though certainly not all of these are to new (or "first-time") parents.
The big question, though, is whether the visits would be mandatory. Providing universal home visits for all who want them is a far cry from requiring universal home visits of every family celebrating the birth of their firstborn.
Cause for Confusion
The confusion seems to arise from page 42 of the budget proposal, which states that the budget includes funds for "universal home visiting." The idea is expanded on pages 56-57:
"Universal Home Visiting — Home visiting programs are a proven way of creating a safe and healthy environment for children by supporting parents and families with information and services that provide the foundation for a lifetime of physical and mental well-being. The Governor's Budget recognizes this through an $8.7 million investment for a Universal Home Visiting program to complement existing home visiting services by helping families enter into their community system of care."
So, does "universal" mean "universally available?" Or does it mean "for every family without exception?" The latter is the literal meaning of the word, and thus the cause for much alarm. But is that as the governor's office intends?
Ultimately, we do not know.
The Budget on pages 20-21 expresses support for "the Early Learning Council and the Early Learning System Director" whose responsibilities include "preschool, childcare licensing and regulation, and voluntary home visiting" (emphasis added), which could be a good sign. But uncertainty remains.
The Oregon Senate has recently taken up SB 526 requiring "The Oregon Health Authority [to] study home visiting by licensed health care providers in the state [and] submit findings and recommendations for legislation to an interim committee of the Legislative Assembly" by the end of the calendar year."
This is no doubt connected to the governor's budget, but this too does nothing to reveal the extent to which "universal" home visits are intended to be universal.
Bad Policy
The Parental Rights Foundation has found mandatory home visits of innocent families to be simply bad policy. In addition to raising Fourth Amendment and parental rights issues, they do nothing good for families. Any benefits that voluntary visits may offer are easily offset in mandatory visits by the trauma a child experiences in finding at too early an age that their parents aren't capable of protecting them from intrusion at all.
Studies have shown that children develop their sense of trust in part from the impression they hold in their formative years that their parents are, as one mom put it to us, "Superman or Superwoman," able to defend their child from anything bigger than the little one can handle. Children robbed of this sense of safety (delusional though it may be) are also robbed of their ability to form trust bonds and lasting relationships for years, if not for a lifetime.
And make no mistake: home visits, even by licensed medical personnel, would constitute a violation of family privacy if the visit is unwanted. Licensed medical practitioners are by law mandatory reporters; once they are inside your home they are a de facto investigative agent of the State. "(While professionals, i.e. mandated reporters, make the majority of all reports for suspected abuse or neglect, roughly 83% of all reports are ultimately concluded to be unfounded, unsubstantiated, or even intentionally false.)" That may create an adversarial medical relationship and introduce a level of stress unhealthy for any family.
In conclusion, this whole matter hinges on Oregon's definition of "universal." Truly universal home visits, including to families who do not want them, are bad policy and will reap serious negative consequences for children. But making sure the service is available to any who want it—and only those who want it—poses no direct threat to our parental rights.
Until Governor Brown's intentions are clear, we will monitor her proposal with great interest.
Sincerely,
Michael T. Ramey
Executive Director