EPPiC Talk: Judge Lays Out Blueprint for Keeping Families Together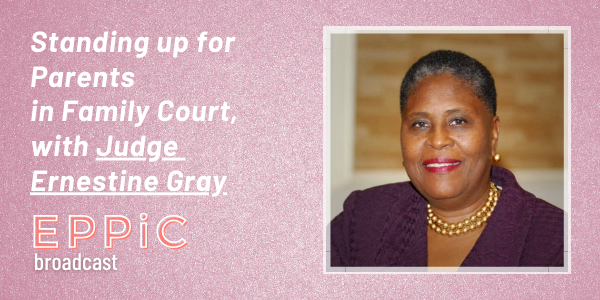 There is actually a blueprint for keeping children out of foster care and protecting families from unnecessary intrusion, even under existing law. And that blueprint was spelled out in a recent EPPiC Broadcast episode with retired family court judge Ernestine Gray.
The EPPiC Broadcast is the official podcast of the Parental Rights Foundation.
In our August 24 episode, Judge Gray talked with me about her time on the bench in New Orleans, and how she kept so many children out of foster care. (By one report, children in her parish went to foster care at a tenth of the national average rate!)
"[U]nder the law," she told me, "it allowed me to really hold the department, and everyone's feet, to the fire in terms of the presentation of their case, the proof of their case… So, it really behooves everyone to really be prepared and to think about the allegations that you're making and whether or not you have the proof."
While in so many courtrooms it seems the petitions from the Department of Child Services (the department) are practically rubberstamped by the judge, this adherence to the law and demand for evidence really set Judge Gray apart.
"I always thought that it was a disservice to the families—the parents and the children—to throw a bunch of things in the petition, make a lot of allegations that were not sustainable," Judge Gray explained, later adding, "I didn't like these case plans that outline everything under the sun…. And so, if you don't have an allegation in your petition about substance abuse, do not give me a case plan that says the parent has to go to substance abuse training or needs to be periodically drug tested. That, you know, that just makes for a bad case, a case that is harder to resolve."
We also discussed the need of many families to have a stronger support network so that when a parent gets frazzled or tired or stressed, he or she can take a break from their children for a little while.
"Part of the problem is that many, many of the families we have [in court] don't have that," Judge Gray said. "And I'm convinced that if more families had resources like that, that, too, would decrease the number of families who are coming to our attention."
In the hour-long conversation, we also covered the concept that "poverty is not neglect," the presumption that appears so often in family court that all parents are bad guys (spoiler alert: they're not!), and the role of the department as a policing mechanism—and how that limits its effectiveness in helping families in need.
All in all, the conversation was like a breath of fresh air. While we could use some tighter, clearer, stricter laws to keep departments all over the country from dragging children off to foster care for so many silly excuses, it is encouraging to know that even the laws we have now could spare so many more families—if only good judges would hold a few more feet to the fire.
If you haven't listened to this encouraging episode, I would urge you to add it to your playlist this week. And while you're at it, check out our other recent episodes, featuring guests like Patti Sullivan and Florida State Rep. Erin Grall on the Florida Parents' Bill of Rights, NYU Professor Anna Arons on the failure of a much threatened "epidemic of child abuse" to materialize during the covid shutdown in New  York, and Jim's second interview with former children's bureau head Jerry Milner on needed federal reforms.
And thank you, as always, for standing with us. Your gifts to the Parental Rights Foundation are what make the EPPiC Broadcast and important, exciting conversations like these possible.
Sincerely,
Michael Ramey
Executive Director