A Special Father's Day Message from Shaun Alexander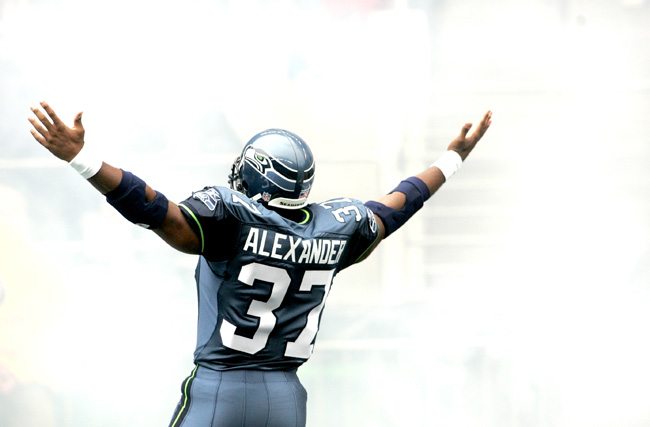 My name is Shaun Alexander, and I'm the vice-president of the Parental Rights Foundation.
From 2000 – 2008 I played in the National Football League, eight years in Seattle for the Seahawks and my last year in DC for the Washington Redskins.
In 2005, I was named the Most Valuable Player of the NFL, having 1,880 rushing yards and scoring 28 total touchdowns, an NFL single-season touchdown record. I became the first player to have over 1,100 yards rushing and 15 or more touchdowns 5 years in a row. 
Obviously, sports has been an important part of my life. But most people don't realize the average NFL running back plays only 2 years. A running back with a successful career still retires years before he's 30 years old.
The question for many NFL alumni is the same: "What am I going to do with the rest of my life?"
Truth is, all men ask that inner question.
For me, I wanted to spend my best years loving my wife and raising my family. I wanted to invest my days in being a father.
When we celebrate Father's Day in just a few days, we celebrate the important role dads play in the lives of their children. That vital role has become a key passion in my life, and it's one of the reasons I'm so involved with the Parental Rights Foundation.
I believe family is the most underrated unit in the world.
And the father is so important because he can set the identity, standards, and direction for everyone in the family and all people that come in contact with that family.
If the father role is handled correctly, communities, cities, states, and even the country will produce healthier people, better able to unite with others, confident in their own gifting to society.
But I realize many men have missed the excitement, the power, and the impact of being a father. A lot of today's fathers were raised by single moms and didn't have a strong male role model around, so their idea of being a father is very loose.
The loose focus of the father makes the true authority, sacrifice, and voice of the man irrelevant.  The lack of male leadership slowly confuses and at times destroys the entire family and the greatness that is designed for each member. 
My parents divorced when I was ten years old. While I was raised by my mom, I was also blessed to still have my dad in my life. So I appreciate all the moms out there trying to be both mom and dad, and I also value the unique position only a dad can fill.
When I learned about ParentalRights.org and the Parental Rights Foundation, I was impressed, stirred, and excited. Impressed by the fight and stance they had for parents' rights. Stirred by the disrespect for parents who seemed helpless to train their kids in the way they should go.
And I was excited at the opportunity to become part of a team that would educate and inspire parents, especially fathers, to lead their homes and help their children become all they were created to be.   
A lot of men struggle to be a Dad because they don't know how, but there are also those who don't really get the chance because their rights as a father— as a parent—are being undermined.
They never get the chance to try, and their kids never get to know the gift of having a loving dad.
That's why parental rights are so important.
And we've seen it proven so many times.
I know by now a lot of people have heard of Justina Pelletier. She's a Connecticut teenager who went to the hospital when she was 14, having problems with the flu.
She has a rare condition, mitochondrial disease, but the doctors at the ER disagreed with that diagnosis. They said it was all in her head, a psychological illness, and they got the state to take custody of her so they could direct her medical care.
For months she wasted away in the psych ward at Boston Children's Hospital—her parents had lost custody to the state of Massachusetts—until finally one day her dad, Lou Pelletier, said, "You know what? Enough is enough. This is my daughter and I'm going to do something about this."
So he started telling their story. He got the word out. He went to major newspapers, tv shows, and online news sites. He told everyone what was happening to his little girl.
Soon he got offers of help from some big legal foundations, parents' groups, and other organizations. Everyone wanted to help this father rescue his child, to do what they do best, whether that was medical testimony, legal counsel, news media attention, whatever. 
This was before the Parental Rights Foundation existed, but our sister organization ParentalRights.org went to bat to introduce "Justina's Law" in Massachusetts.
That would make it illegal for parents to lose their kids because of one doctor's or hospital's opinion against another.
After a few more months and a national public outcry, Justina finally came home.
I know her mom could have done that, too. And a number of parents—moms and dads—are able to get their children back. But the point is, too many don't.   
Maybe the parents don't have the contacts or the know-how, or maybe they just aren't aware of their rights. And they certainly can't all get the kind of out-pouring of help Lou Pelletier received.
But they all need to be empowered. They all need to be able to stand up like he did and say, "This is my daughter. That's my son. And I have the authority to do what I think is best for my child."
I believe the loving parent has the right to make healthy decisions that would help their children reach the fullness of their abilities. That's why the Parental Rights Foundation works to educate people about the state of parental rights in America. 
Because most parents don't know that when you take your child to the emergency room because they're sick, you could have the state take your child away from you because you and the doctor disagree on treatment.
Parents don't know that a school teacher, counsellor, or nurse can give your child information and even health care for sex- or drug-related issues, and not even tell the parents about the conversation or situation your child is in.
People don't know the eggshells parents walk on because they fear the neighbor, or even the stranger at the store, who might disagree with how they discipline their own child.
Some parents have to live with the fear of having their kid taken from them because they're a latch key kid who gets home from school before their mother does.
Parents don't know at what age they can leave their child home alone while they run to the store. All parents fear someone calling a hotline and having their kids taken away.
Because so many moms and dads live in uncertain fear, the Parental Rights Foundation is about opening people's eyes and giving them truth about their authority as a parent, at the same time giving parents wisdom learned from the outcomes of parenting situations from the past.
Everything we do at the Parental Rights Foundation is designed to protect children by empowering fathers, by empowering parents like you and me. But we can't do any of it without your support.
So, thank you for empowering the work of the Parental Rights Foundation. Together we're making life better for so many children by preserving the right of their parents to be there for them.
Despite all the lawyers, all the government agents, all the doctors working on eroding parents' rights, it is the parents who know what a child really needs. Only the parents are in the best position to provide it.
I have received a lot of awards, a lot of accolades, and a lot of fame in my life. But my greatest title is being a father.
If I can raise my children to be lovers of Jesus, confident in who he has called them to be, to love and serve people, walking free in their own faith, I'll take that over any honor football could ever offer. 
The Parental Rights Foundation helps all of us, by showing the public and policy makers just how important parents are for their children.
Thank you for standing with us. 
I hope this Father's Day you will get the chance to honor your father and thank him for the relationship you have with him. And if you are "The Dad," I hope you receive the blessing, honor, and love that role deserves. Keep serving, keep loving, keep sacrificing.
It will produce greatness. 
Happy Father's Day from the Parental Rights Foundation.
Sincerely,

Shaun Alexander
P.S. — Fathers are a crucial part of a child's life. Of all the accolades and titles I have received, "Father" is the best. And that's why I'm proud to support fathers and empower all parents. Thank you for standing with the Parental Rights Foundation this Father's Day and always as we strive to defend families and protect this vital role.