A Momentous Step Forward in Louisiana and for the Nation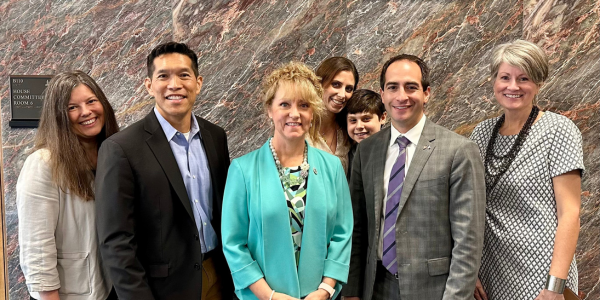 On Monday, the Louisiana State House of Representatives' Civil Law Committee unanimously approved a proposed parental rights amendment to the Louisiana State Constitution. I was privileged to attend the hearing and present testimony in support, along with parents and allied organizations. Constitutional law professor and Parental Rights Foundation board member William Wagner provided written testimony, as well.
And the sponsor of the proposed amendment, Louisiana State Representative Beryl Amedee, deserves huge credit for her visionary leadership in advancing this bipartisan amendment. We also want to thank Homeschool Louisiana and Health Freedom Louisiana for attending the hearing and their strong support on this critical amendment.
This is a huge step forward for the cause of parental rights, both in Louisiana and across the nation. For almost 30 years, parents and their allies had feared trying to amend state constitutions to protect parental rights because of a shocking defeat at the hands of Colorado voters in 1996.
However, in the spring of 2020, many parents were doing remote work at the kitchen table alongside their children attending "Zoom school." Those parents, seeing what was going on in their children's schools (and not liking it!), have made parental rights a key national issue.
We and our allies across the nation felt that the time was ripe to begin working on amending state constitutions to protect parental rights, as well as continuing our work to protect parental rights in state laws. And with the return of the Parental Rights Amendment to the U.S. Constitution in Congress, this multi-pronged strategy is bearing fruit.
Already, the Texas Senate has passed a parental rights amendment to the Texas Constitution; it is now pending in the Texas House.
And the Iowa legislature recently sent S.F. 496 to Governor Kim Reynolds' desk. If signed into law, as is widely expected, Iowa will join 15 other states in protecting parental rights as fundamental in state code. 
We are thrilled with these victories. We know that we have our work cut out for us, however, as there have also been defeats this legislative season. But together, parents are standing up to protect our precious children.